Dermal Fillers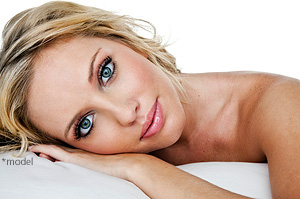 The way your skin looks is directly related to the way your skin is supported. Wrinkles form when the natural collagen and hyaluronic acid in your skin diminish during the course of aging. Other factors that cause wrinkles include exposure to the sun, disease, injury, heredity and lifestyle. Collagen provides structure to your skin while hyaluronic acid provides skin volume.
Dermal fillers are substances that are injected just below the surface of the skin to fill lines, wrinkles and scars from the inside out. Dermal fillers can temporarily restore a smoother, more youthful appearance. Dermal fillers can also be used to add definition to the lip border. Collagen dermal fillers have been proven safe and affective for more than 20 years.
Collagen
Collagen is the most abundant natural protein found in the body and provides structural support to skin, muscle, tendons and bone. Fibers of collagen are woven together, like threads in fabric, to form a framework into which new cells can grow. In the skin, collagen provides texture, resiliency and shape.
Hyaluronic Acid
Hyaluronic acid is a naturally occurring sugar. It is found in the human body in the skin, cartilage, joints and the eye. In skin tissue, hyaluronic acid fills the space between collagen and elastin fibers. The role of hyaluronic acid in skin is to deliver nutrients, hydrate the skin by holding in water, and to act as a cushioning agent.
How will my skin look and feel immediately after treatment?
Most people feel comfortable in resuming their normal activities following treatment. Temporary puffiness of the treated areas, however, should be expected. As with any injection, you may also notice temporary redness, slight bruising, and tenderness around the treatment sites. Like the puffiness, these are normal occurrences and all should clear up within a few days. Although the injected material is generally not visible through the skin, some people have reported that they were initially able to feel the outline of the injected material.
How often will I require treatment?
Everyone's skin is different. That is why the timing of any additional treatment varies from person to person. Over time Hylaform gel and/or collagen will be absorbed by your body; this is why you may want on-going treatments. If you choose not to continue with your treatment, any remaining gel is simply absorbed by your body over time and your skin gradually returns to its natural shape.
Without touch-up injections, how will my skin look?
Correction will reduce gradually until your skin looks like it did before treatment with hyaluronic acids/collagen. Touch-up injections will help maintain correction of the skin surface.