Breast Augmentation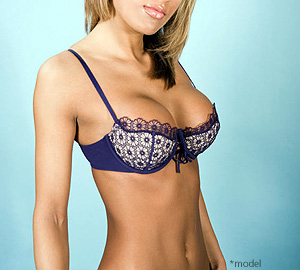 Breast augmentation enhances your breast size and shape, or improves volume loss after childbirth and breast feeding.  It can also improve symmetry, and even give your breasts a modest lift.  Whether you seek a more natural aesthetic, or something more ostentatious, consider having your breast augmentation performed in Las Vegas , Nevada with Hankins & Sohn Plastic Surgery Associates.  Through our office with Dr. Hankins and Dr. Sohn, over 1000 breast implants are placed on an annual basis.  With this volume comes significant experience, and we feel strongly that this breadth of experience makes all the difference in obtaining the results you desire.
There are many choices when first considering breast augmentation, and we will discuss these options at your consultation.  First, a decision needs to be made between silicone or saline implants.  Second, the location of the incision will be discussed.  Third, placement of the implant above the muscle (subfascial), or below the muscle.  Last, the implant size will be determined by trying on implants to get a feel for the right size for you.  A physical examination will also help to determine what characteristics of your breasts would be best suited for these options, as well as to determine whether or not a breast lift is needed.  There are many variable involved in the choices of breast augmentation, and we tailor each consult and decision making process, to each individual patient.
Saline vs. Silicone Implants
Saline implants have little risk with deflation, but can be firmer and feel not as "naturally soft" as silicone.  Wrinkling or rippling are possibilities, and we often place the implant below the muscle to counteract this, particularly in thinner patients.  On the positive side, the saline implants are less expensive, and can be placed through a minimal incision.
Silicone implants were reintroduced for primary breast augmentation in 2006.  Silicone implants have always been available, but were restricted to patients for breast reconstruction or those who needed a lift.  The silicone gel implants in use today are a third generation implant, that use a more "cohesive gel" formulation, a thicker gel yet still soft and natural in feel.  Silicone implants can easily be placed above or below the muscle, with some pros and cons associated with each.
In deciding to use silicone or saline implants, the look that you achieve is similar with each implant, the main difference is in the feel.  Some women do not like the idea of silicone in their body (studies performed over the past 15 years have not shown any additional health risks associated with silicone implants).  For these individuals, saline is a conservative option.  For other patients, the natural feel of the silicone implants is the most important factor, and they prefer the gels.  There are pros and cons associated with each, for more information ask Dr. Hankins and Dr. Sohn during your consultation
Incision Locations
There are several different incisional approaches available when performing breast augmentation.  We will be happy to discuss these different options with you at your consultation.  The approaches we most frequently use at Hankins & Sohn Plastic Surgery are the periareolar (a tiny incision at the junction of the areola and breast skin), and the inframammary (underneath the breast in the natural fold).
Implant Size
Choosing the implant size is an important step in the breast augmentation consultation process.  In general, it's good to have an idea of what cup size you would like to be, but we ask that you not focus on this measurement.  There is no standard for bra and cup size, each manufacturer is different.  We find that trying on implants in the office is the most accurate way to choose the appropriate volume.  We recommend that you bring in form fitting tops to try on with the breast implant sizers.  High crew necked shirts in light colors or a tight fitting clothing will accentuate your breasts and make you look the largest.  You do need to be comfortable in all your clothes, even those that accentuate your breasts.
We recommend that you become accustomed to seeing yourself with breasts.  There is often an initial shock when women see themselves with breasts.  In order to assist you in picking out a more accurate size, and to avoid the "I wish I would have gone a little bit bigger" statement, stuff your bra for a while before surgery.  Padding your bra, using inserts, or even baggies of rice: all are good ways to test out the new size.  You want to make sure that you are comfortable in different types of clothing and in different environments.
The Consultation Process
During your consultation in our offices in Las Vegas or in Henderson, the doctors will  meet with you personally.  Certainly there are many choices that need to be made during the breast enhancement process.  Dr. Sohn and Dr. Hankins will educate you and help you to understand the pros and cons of silicone gel versus saline implants, subglandular versus submuscular placement, sizing, incision choices, and implant styles (moderate, moderate plus, and high profile implants, shaped /anatomic implants versus round implants, textured vs smooth).  During the exam, we may note differences between your breasts, as there is frequently some asymmetry noted.  The breasts may have different sizes or positions, nipples may be at differing heights, and the rib cage can be different from side to side.  We note these differences, and work to reduce them, to make you look as symmetric as possible.  Some breasts do special techniques, in particular the tuberous breast and constricted breast.  Sometimes, photos of breasts you consider attractive may be useful, or point out a breast in particular on our website so that we have a frame of reference.
Breast Augmentation Recovery
The cosmetic breast augmentation surgery is typically 1 hour. Recovery time is one to two weeks, depending on your job type and activity levels.
Choosing Your Surgeon
Be assured with the extensive experience that Dr. Hankins and Dr. Sohn have with breast augmentation.  Our surgeons are both Board Certified Diplomates of the American Board of Plastic Surgery, and have trained extensively in the latest techniques designed to make your breasts look as beautiful as possible.  Come meet our physicians, and make sure that you are comfortable with the process and the staff.  Call us today to schedule your complimentary appointment at (702) 948-7595.
Breast Augmentation Video
Part 1 – Saline vs. Silicone
Part 2 – Incision Location
Part 3 – Submuscular vs. Subglandular