Eyelid Lift (Blepharoplasty)
What is eyelid surgery?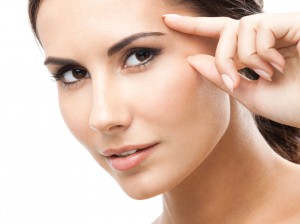 Eyelid surgery, or blepharoplasty, can help you to reverse common signs of aging on the upper and lower eyelids and achieve a more youthful look.The eyes are an important focal point of your face, and these features help to communicate your thoughts, feelings, and intentions. The sensitive eye area is also one of the most prone to the natural process of aging. Heavy, sagging eyelids can unintentionally convey that you are sad, tired, or older than your chronological age. Our Las Vegas plastic surgeons can remove skin and fat from the upper and/or lower eyelids, thus reducing the appearance of heavy lids and under-eye bags. Additionally, this procedure can often make the skin in this area appear smoother, leaving you with more awake and rejuvenated eyes.
We offer complimentary consultations to help you make the best decision for your needs and goals. Contact our office today to learn more about eyelid surgery or to schedule an appointment.
Benefits of Eyelid Surgery
As mentioned briefly above, eyelid surgery can rejuvenate the eye area with natural-looking results. Other benefits can also be achieved with this technique, including:
Reduced excess fatty tissue and puffiness
Fewer wrinkles and lines around the eyes
Smoother, firmer eyelids
Improved vision (if skin laxity has obstructed eyesight)
Long-lasting results for most patients
Blepharoplasty can be an excellent option for certain patients, but it's not appropriate for all people. In some cases, the cause of sagging eyelids may be due to a heavy brow, caused by excess tissue on the forehead. If our surgeons determine this is the case, a brow lift may be more effective. Your health, expectations, and other considerations will also be evaluated to identify the ideal treatment for your needs and goals.
Eyelid Lift Procedure
Many factors contribute to the appearance of heavy or droopy upper eyelids, including brow position. Significant slumping of the brow can cause the upper eyelids to appear overly full and puffy. Other eyelid concerns may be due to excess skin and skin laxity. Depending on your anatomic needs and expressed goals, the best technique may be an eyelid lift (upper, lower, or both), a browlift, or a combination of the two procedures. Our plastic surgeons will recommend the ideal approach for you during your initial complimentary consultation, and together you will develop a treatment plan that can optimize your outcome.
If the excess skin of your eyelids impairs your vision, your treatment may be eligible for insurance coverage. We can discuss whether this is a possibility during your appointment.
Your treatment plan will be tailored to address your concerns and to provide the most natural-looking outcome possible. The incisions used for eyelid surgery typically will be hidden in the natural creases of the upper eyelid or along the lash line of the lower lid. In some cases, the incision may be hidden inside the lower lid (transconjunctival), which is considered to be a "scar-less" approach. This technique is not appropriate for everyone, and our surgeons will explain if this option may be right for you.
Eyelid Lift Recovery
Blepharoplasty typically takes about one-to-two hours to complete, depending on your unique treatment plan and whether you are undergoing one or more procedures. Less complex techniques can sometimes be performed using local anesthesia, and general anesthesia will be used in other cases. Most patients spend about one week recovering at home; however, everyone's rate of healing is unique. Our plastic surgeons will provide more detail about when you can begin exercising again at your follow-up appointments. Bruising and swelling is normal, as is some level of discomfort. Prescription medication will be provided to make the healing process as comfortable and pleasant as possible. Eyelid surgery scars should be small and virtually unnoticeable. *While the natural aging process will continue, the results of an eyelid lift are often very long-lasting.
*Individual Results May Vary
Will medical insurance cover the cost of eyelid surgery?
The skin of the eyelids can become inelastic to the degree that it begins to impair a patient's range of vision. If that's true for you, your medical insurance may cover the cost of your procedure, in part or in full. Every individual's medical plan is unique, and we recommend talking with your insurance agent about your options to determine if functional blepharoplasty might be covered. If you're considering eyelid surgery purely as a cosmetic treatment, you will have to cover the full cost of the operation. We work with plastic surgery financing firms that offer enticing payment plans for qualified applicants, if you prefer to pay for your eyelid surgery in a series of installments.
How much does eyelift surgery cost?
The price of eyelid surgery will depend on several factors, including the experience of the plastic surgeon, the unique details of your treatment plan, and whether you're combining techniques (for instance, proceeding with eyelid surgery and a brow lift). The American Society of Plastic Surgeons recently revealed the average surgeon's fee for blepharoplasty in 2016 was $3,022. This number does not include the expense of anesthesia, operating room facilities, or incidentals. To help you form the most accurate picture of what this procedure will ultimately cost, we will go over all the anticipated fees during your initial consultation. We believe this gives you the information you need to make the best decision for you.
What will eyelid surgery scars look like?
Our surgeons take great care to minimize the appearance of scars, particularly in sensitive areas like the eyelids. In general, the incisions used in eyelid surgery are small and well-concealed. It may be possible to place the lower eyelid incision either along the lower lash line or on the inside of the eyelid, where the healed scar will be essentially unnoticeable. The upper eyelid incision is usually placed within the natural fold of the eyelid so as to be inconspicuous to the casual observer.
For more information on eyelid lift surgery, or to schedule a complimentary appointment with our surgeons, contact us at (702) 948-7595.