Breast Reconstruction (Cancer)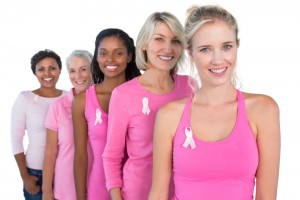 Breast cancer affects women (and some men) of all ages, backgrounds, and ethnicities. This life-threatening disease often will be treated with a lumpectomy or mastectomy, in which breast tissue is removed to reduce the spread of cancer. Many women are naturally concerned with how they will look and feel after having one of these operations. Fortunately, reconstructive breast surgery can restore the breast, including the nipple and areola, and help women feel whole again. Our board certified plastic surgeons, are extensively trained in some of the most advanced breast reconstruction techniques. They also work closely with leading oncologists in the area.
Breast reconstruction is an opportunity to move forward, and we can help make it the best experience possible for you. Contact us today for more information about this procedure or to schedule a complimentary consultation with one of our surgeons.
Is Breast Reconstruction Right for You?
Whether you wish to undergo breast reconstruction is up to you, and not all women choose to do so. Our plastic surgeons will be happy to help guide you by explaining what can be done and what the expected results might be. Reconstructive breast surgery often can be performed at the same time as a mastectomy, as well as months after recovery. When you are first diagnosed, there are many choices that need to be made. Ultimately the decision will be yours, and you will have our support in making it.
Types of Breast Reconstruction
There are many different techniques used to achieve the most natural-looking breast reconstruction possible. Reconstructive surgery is designed to restore the contour and volume of the breast after the cancer is removed. Breast tissue can be replaced with breast implants or autologous transfer (your own tissue). Treatment following a lumpectomy will be approached differently from treatment following a mastectomy. In a lumpectomy, a portion of breast tissue will be removed, which may leave a dent or bulge in the breast. Mastectomy involves the removal of the whole breast, including the nipple and areola. If one breast is removed, a symmetry procedure can be performed to make the breasts appear more similar. This operation, which can include breast augmentation, breast reduction, and/or breast lift, may be covered by insurance. The types of breast reconstruction include:
Tissue Expander and Implant Placement
This is an option after mastectomy, which removes the entire breast. In the first step, a tissue expander is used to open up the breast pocket so it can hold a breast implant. The temporary expander will be placed under the chest (pectoral) muscle and will be gradually inflated over time to gently stretch the skin. Once the skin is able to accommodate the desired implant, a second surgery will be performed to place the implant.
Autologous Reconstruction
In this procedure, your own natural tissue will be used to rebuild the breast. There are several techniques used, and two of the most common are the TRAM (transverse rectus abdominis) flap and the latissimus flap (the latter in combination with a tissue expander and breast implant). The TRAM flap is a section of fat and skin taken from the stomach. Many patients prefer this method because it has the added benefit of including a tummy tuck. It's important to note, this operation typically requires about three-to-four weeks of downtime. Ideal candidates for this procedure will need to have enough soft tissue to create the breast, and the results should look and feel very natural.
The latissimus flap with tissue expander and implant procedure is similar to the expander and implant reconstruction described above. The difference is this technique also utilizes the latissimus muscle, a thin broad muscle from your back. This muscle is released, and the muscle, skin, and some fat is brought in front of the chest to help provide some additional soft tissue coverage over the implant. This may be performed in cases where radiation therapy is a factor, if patients are particularly thin, or if you are not a candidate for a TRAM reconstruction.
Nipple and Areola Reconstruction
In cases of mastectomy, nipple and areola reconstruction are often reserved until months after the breast tissue has been restored. This procedure utilizes a piece of breast skin to create the nipple. The areola can then be created from a skin graft or a tattoo, depending on the needs and goals of the patient.
If you need additional information about breast cancer, breast reconstruction, or support groups, we would be happy to direct you to some forums where you can interact with others and find the material you're interested in. We encourage you to educate yourself as much as possible to help make the best, most informed decision for your health and well-being.
Dr. Hankins and Dr. Sohn are the primary reconstructive surgeons at Sunrise Hospital and Medical Center, and they have a vast amount of experience with all types of simple and complex breast and oncologic reconstruction. We invite you to contact our office at (702) 948-7595 to schedule your complimentary appointment.