Brazilian Butt Lift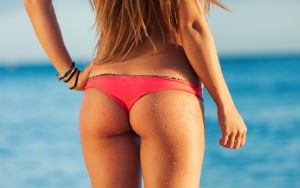 More than ever, patients are seeking to enhance the size and shape of the posterior. The backside can be an important contributor to aesthetics for both men and women. Furthermore, round, firm, and well-defined buttocks can give the body a healthy and youthful-looking appearance. Dr. W. Tracy Hankins and Dr. Samuel M. Sohn, our experienced plastic surgeons, perform the latest techniques to improve the contour and volume of this area. Among the options are Brazilian Butt Lift, which is an implant-free approach, and gluteal augmentation. The right technique for you will depend on your desired outcome and anatomic indicators. Our surgeons will be happy to help guide your decision to optimize your results.
Are you considering enhancing the shape and appearance of your buttocks? Contact us today to learn more about Brazilian Butt Lift or to schedule a complimentary consultation.
What Is a Brazilian Butt Lift?
Brazilian Butt Lift is designed to be a more natural alternative to gluteal augmentation, which uses an implant to increase volume in that area. With Brazilian Butt Lift, your own fat can be harvested from other regions of the body and transferred to the buttocks to refine their overall shape and size. Autologous fat transfer, also called fat grafting, offers results that typically yield less scarring than gluteal augmentation. This approach may be the right option for you, depending on your needs and goals.
Brazilian Butt Lift requires that the fat be collected and prepared in a very precise manner to ensure that the majority of the tissue survives in its new location. It's important that you have enough existing excess fat available for this treatment to be effective. Any other considerations you need to be aware of will be detailed during your initial complimentary consultation.
Brazilian Butt Lift Procedure
Brazilian Butt Lift involves a multistep process that incorporates two procedures. The first step will be to harvest the fatty tissue from one or more donor locations—such as the abdomen, hips, thighs, or arms—using liposuction. Your preference for a donor location will be taken into consideration, and many patients enjoy this opportunity to further enhance their body contour. Once collected, the fat will be prepared by removing any extraneous material and purifying the tissue. The fat will then be injected in very small quantities and spread evenly throughout the region. This must be done so that the new tissue can attach to, and become integrated with, the existing tissue. The amount of fat that survives can vary in range, and Drs. Hankins and Sohn will generally overfill the area to compensate for the expected volume loss. The tissue that survives should remain.
Brazilian Butt Lift Recovery
Recovery following Brazilian Butt Lift will vary depending on several factors unique to your treatment plan. You should experience some soreness in the areas where fat was transferred, although discomfort typically will be minimal. You will also likely experience more notable bruising, swelling, and tenderness in the areas where liposuction was performed. Discomfort can be managed with prescription medication. We recommend that you rest at home for about five-to-seven days before returning to your normal routine. We also urge patients not to sit for extended periods, as this can alter the shape of the tissue or result in volume loss. Strenuous activity should be avoided for at least three weeks, or as long as Dr. Hankins or Dr. Sohn recommends.
Compression garments will be utilized to help enhance your outcome. These are generally worn for about six weeks, and have been shown to improve the survival rate of transplanted fatty tissue. Additionally, compression garments can potentially reduce the risk for fluid retention, "lumpiness," bleeding, and other complications. It's important to note that the normal effects of aging and lifestyle still apply.
For more information about Brazilian Butt Lift from our experienced plastic surgeons, contact our office today. Our friendly and knowledgeable medical team can answer your questions and help you schedule a complimentary consultation.