Laser Hair Removal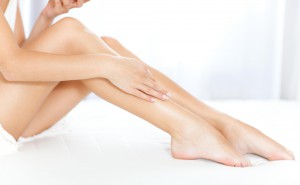 For many patients, hair in unwanted areas can be a problem, and getting rid of it can be a frustrating process that requires the use of hair removal creams, razors, wax, or painful electrolysis procedures. In contrast, laser hair removal can effectively slow hair growth and remove unwanted hair. It is most effective for people who have light skin and darker hair; however, Hankins & Sohn Plastic Surgery Associates offers advanced technology that can be used on a wider range of skin types. A series of treatment as well as periodic maintenance sessions may be needed to obtain the best results possible. Our skilled medical aestheticians will develop a customized treatment plan with your needs and goals in mind.
Laser hair removal systems do not actually remove hair; instead the light wavelength targets the melanin in the hair follicle, preventing growth. Low-energy lasers use gentle settings to disable the follicle, thereby putting an end to waxing and shaving. Your skin should look and feel smoother and silkier as a result. Because these systems affect an area of skin rather than treating each individual hair, it is possible to treat larger areas such as the back, shoulders, arms, legs, in addition to the face and neck. Best of all, these advanced laser hair removal treatments are generally considered to be effective, safe, gentle, and rapid alternative methods for hair removal.
For more information about laser hair removal, or to schedule a complimentary consultation, please contact our practice today.
Laser Hair Removal Process
The process of laser hair removal is generally a gentle one, and we strive to make you feel comfortable throughout the process. A complimentary consultation with our medical aestheticians will let you know if you are an ideal candidate. The area to be treated will be cleansed, and numbing cream may be applied if desired. The area will be scanned with the laser handpiece and the light will be absorbed by the hair follicle, vaporizing the melanin pigment and preventing future growth. Length of time for treatment may range from just a few minutes to hours depending on the number and size of the areas treated. Most patients achieve results in several treatments; however, it must be kept in mind that there are many factors that can affect the hair growth cycle. These include age, diet, weight, hormones, metabolism, medications, and ethnicity. The number of treatments required to adequately treat an area with long-term outcome will depend on these and other factors.
After your treatment, the area is cleansed and you are free to return to your normal daily routine. We may recommend that you use a specially formulated skin care product line or prescribe a skin care regimen particularly designed for your skin type after the procedure. The use of sunscreen is recommended for at least 48 hours on any treated areas exposed to the sun.
Lumenis LightSheer® DUET™ System
We are now excited to offer our patients the newest and latest in laser hair removal technology with the Lumenis LightSheer® DUET™ system. This innovative equipment utilizes two separate laser hair removal heads, one for smaller spot treatments and a larger head for more rapid hair removal on larger areas. Both options offer state-of-the-art hair reduction that's designed to maximize comfort, either by cooling the skin or by using vacuum assistance. The procedure should be virtually painless, and the Lumenis LightSheer® DUET™ can provide significant hair reduction in the treated area with long-lasting results.
Clear + Brilliant Pélo™
In addition to the Lumenis LightSheer®, our plastic surgery practice is also proud to offer the Clear + Brilliant pélo™. This innovative laser hair removal system uses linear-scanning and contact cooling technology for enhanced speed and comfort. Furthermore, this advanced device can provide highly effective and long-lasting hair reduction for virtually any area of the body. Clear + Brilliant pélo™ is designed to work on a wider range of skin tones and types, which is an important benefit in a diverse city like Las Vegas.
If you would like to learn more about our advanced hair removal options, please contact our office today. We can answer your questions and help you schedule a complimentary consultation.