NeoGraft® Hair Replacement System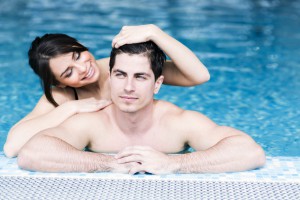 Hair loss is a condition experienced by millions of people, both men and women, and this common concern can have serious effects on self-esteem. In the past, treatment options included preventive care creams, invasive surgical measures, and other methods that offered a less than ideal outcome. But now our top plastic surgeons offer a revolutionary procedure to address hair thinning and pattern baldness. Contact us today to learn more about NeoGraft® and to schedule your consultation with our skilled surgeons.
What is NeoGraft® Hair Transplantation?
NeoGraft® is a technologically advanced hair replacement system that uses minimally invasive techniques to restore your own natural hair with little to no scarring or downtime. It uses a computerized, automated approach directed by our skilled plastic surgeons. The process of harvesting the hair follicles is called Follicular Unit Extraction (FUE), which can quickly and accurately collect follicles for transplantation. As a result, there is as little damage done as possible and higher rates of successful relocation.
The NeoGraft® Procedure

Hair transplantation is a process in which healthy, growing hair follicles are moved from the donor area and placed in the balding region. These transplanted follicles should then continue to produce natural hair. There are many different types of male and female pattern baldness, which are measured according to a system called the Norwood Scale. As long as there is sufficient donor hair, virtually all types of alopecia – the medical term for baldness – can be addressed by using the NeoGraft® procedure.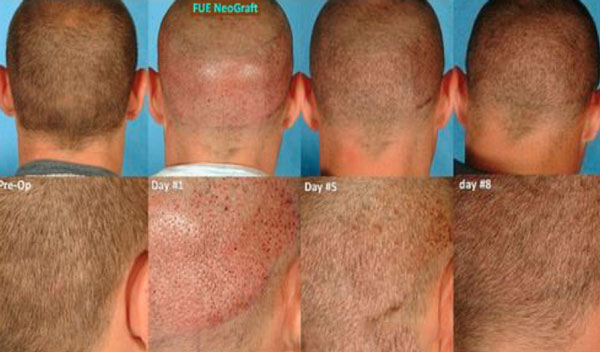 While traditional methods of hair transplantation rely on manually transferring large strips of hair, NeoGraft® utilizes an innovative hair harvesting technique called Follicular Unit Extraction. FUE acquires between one and three follicles at a time. Old-fashioned hair "plugs," by comparison, often included up to 20 follicles. NeoGraft®'s automated system enhances the collection process and allows our plastic surgeons to precisely place hair follicles where you need them most. Additionally, our plastic surgeons can adjust the pattern and angle of each follicular unit to achieve a natural-looking result in the most efficient, comfortable, and safest manner possible.
Benefits of NeoGraft®
NeoGraft® revolutionizes hair transplantation, and many of the drawbacks of older techniques are eliminated with this approach. Benefits of the NeoGraft® system can include:
Hair loss treatment for the head or body
No knives, staples, or stitches required
Rapid procedure and recovery time compared with manual transplantation
Ideal option for patients desiring a short hairstyle
Natural-looking results
Minimal discomfort
No linear scars
NeoGraft® Recovery
By harvesting a few hair follicles at a time, NeoGraft® can avoid leaving behind an obvious linear scar. In fact, there typically will be no noticeable marks remaining after recovery. Once the procedure is complete, you may notice small red dots where the follicles were harvested. This will fade as your hair regrows, often in as little as about a week or two, depending on your hairstyle. You may experience some mild swelling and bruising in the donor and/or treated area, which should subside over a few days. Discomfort should be minimal. After about two-to-three weeks, the transplanted follicles will shed—this is to be expected. This shows that hair is going through the normal growth cycles. New growth will begin again in three-to-four months. After this point, you should produce hair normally and you can style it however you like. Although some patience is required, the final outcome speaks for itself.
How much does NeoGraft® hair transplantation cost?
Your treatment plan will be customized based on your characteristics and desired outcome. Since every patient's program is unique, the costs will vary from person to person. According to recent statistics, hair transplantation can cost between $4,000 and $15,000* depending on the method used, how much hair is transplanted, and other factors. We will discuss the price of your NeoGraft® procedure during your initial consultation so you are well-prepared about to expect. Since hair transplantation is considered by most medical insurances to be a cosmetic procedure, your medical policy will likely not cover the expenses. We work with reputable medical financing agencies in the event you would like to consider a payment plan.
*According to Healthline® Media
How soon will I see results?
You will often see results soon after the procedure, but it's important to note that the implanted follicles will shed after two or three weeks in most cases. This is completely normal and should not alarm you. Your hair in the treated area should begin to grow back in a normal manner in about three to four months, following your body's natural rate of hair growth. The results are designed to look and feel natural and allow you to wear your hair at any length you choose. Furthermore, the transplanted hair should continue to grow for life, as the follicles are taken from an area that should not experience the effects of pattern hair loss.
Who is a good candidate for
NeoGraft® hair replacement?
This method of hair transplantation is often favored by men and women who like to wear their hair very short and do not want to have a large linear scar visible on their scalps. This can also be a good technique for athletes who prefer to have minimal activity restrictions following the procedure, and for those hoping to use hair replacement for body hair transplants or to cover existing scar tissue. You should also be in good general health, have sufficient hair in the donor area, a certain degree of hair density, and reasonable expectations for the outcome. Our doctors will evaluate your needs and goals to help determine if NeoGraft® or another procedure will be right for you.
If you have additional questions about the NeoGraft® Hair Replacement System, please contact our office today. Our friendly and knowledgeable medical team can provide additional information or help you schedule a consultation.