Male Breast Reduction (Gynecomastia Treatment)
What Is Gynecomastia?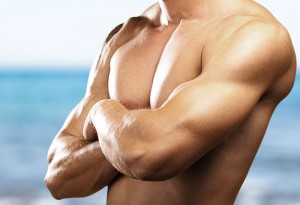 Gynecomastia is a medical condition indicating excessive breast tissue or fullness in men. This is common in adolescence, and typically improves over time. However, if it does not improve, patients may experience self-esteem issues and social difficulties. Obesity is the most common cause of gynecomastia and chest fullness in men. There are sometimes other causes as well, such as anabolic steroid use, marijuana use, genetic disorders, tumors, medications, and certain syndromes. The board certified plastic surgeons at Hankins & Sohn Plastic Surgery Associates understand that this concern can be sensitive, and they offer discreet, compassionate, and effective treatment to address this issue.
For more information about gynecomastia and male breast reduction, or to schedule a private, complimentary consultation, please contact us today.
What Are the Gynecomastia Treatment Options?
Depending on the severity and classification type of gynecomastia present, several different treatment options may be recommended. If there is only a fatty component, liposuction can be used to correct this. Ultrasonic-assisted liposuction (UAL) is often used to help breakup the dense fibrous tissue present in the male breast. If there is also suspected breast glandular tissue present, our experience has been that this does not typically respond solely to UAL but must be directly excised via a small incision around the bottom portion of the areola. If there is also excessive skin present, a portion of the skin may be removed to help re-contour the chest. This will leave a scar in the bottom chest fold that will heal and become less visible over time.
What Is the Male Breast Reduction Procedure Like?
The reduction procedure typically can be completed in-office under local anesthesia. However, if more extensive treatment is necessary, it will be performed under a general anesthetic. For liposuction, a few small incisions are made to allow the cannulas (tubes) to be placed and to remove the unwanted fatty tissue. If a breast reduction procedure is performed, a small incision will be made on the bottom half of the areola (pigmented part of the nipple), and tissue will be trimmed away. If needed, excess skin will be removed, which will require an additional incision running from the areola to the underside of the breast fold. Oftentimes liposuction will be used in conjunction with this method. Both techniques are generally completed as outpatient operations, so you should be able to return home the same day as your surgery.
What Is Gynecomastia Surgery Recovery Like?
Recovery is typically between three-to-seven days, although if skin is removed your downtime may be longer. A compression garment will usually be worn to help reduce swelling and to allow the skin to retract for approximately six weeks. Some discomfort, bruising, and swelling following the surgery is normal, and we will provide prescription medication to manage your pain.
Can Gynecomastia Return?
Depending on the cause of the concern, glandular and/or fatty tissue could recur. Our plastic surgeons will discuss this possibility with you during your initial consultation and provide advice on how to prevent this event as much as possible. Maintaining a stable weight and living a healthy, active lifestyle can help. If a medical condition or hormone fluctuation contributed to your issue, your primary care physician or a specialist should be able to assist in your treatment to minimize the risk of gynecomastia.
What Will Gynecomastia Surgery Scars Look Like?
We understand that you want to feel more comfortable about the way your chest looks, and having noticeable scars can affect that goal. We make every effort to leave as few surgical marks as possible, and most patients heal very well. That said, it is impossible to perform scarless surgery for gynecomastia. We offer a number of laser skin resurfacing options that can be used to diminish the appearance of scars, and for many individuals, this can achieve a smooth result with relatively unnoticeable signs of treatment. We can show you before-and-after photos to give you a good idea of what to expect once you've healed.
How Much Does Gynecomastia Treatment Cost?
According to statistics from the American Society of Plastic Surgeons, gynecomastia treatment cost about $3,525 in 2016. This number only reflects the cost of the surgeon's fee. Additional expenses, such as anesthesiology fees, hospital fees, and medical tests, can increase this number. The price of gynecomastia treatment may also be partly or fully covered by your medical insurance, depending on your plan. We suggest speaking with your agent to determine if your benefits might apply. If you are paying out of pocket and wish to consider plastic surgery financing, we work with several prominent lending institutions that offer affordable rates and appealing terms. We can tell you more about them, if you're interested, during your initial consultation.
Our experienced surgeons can evaluate you to see if you are an ideal candidate for gynecomastia reduction. Contact our offices at (702) 948-7595 to schedule your complimentary appointment today.