Brow and Forehead Lift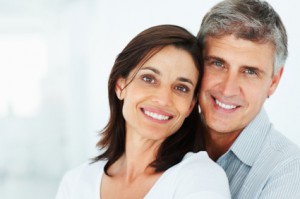 The natural process of aging and other factors can cause the skin and tissues of the upper face to descend over time. As a result, creases along the forehead can form and deepen, the brow can become heavy, and the eyelids may droop. These effects can make a patient appear tired or upset regardless of how they feel. Some individuals may even experience reduced vision as a result of a heavy brow. Fortunately, the latest techniques in cosmetic surgery make it possible to elevate the brow to a higher, more youthful position with natural-looking results. Dr. W. Tracy Hankins and Dr. Samuel M. Sohn, our experienced plastic surgeons, perform traditional and endoscopic browlifts for men and women. If you're considering this procedure, we can determine if a brow/forehead lift may be right for your needs and goals during your initial complimentary consultation.
Our experienced medical team can answer your questions or help you schedule a complimentary consultation. Contact us today to learn more about brow lift surgery.
Brow and Forehead Lift Procedure
The browlift procedure, also known as a forehead lift, is customized to suit the needs of the patient, and extra care is taken to respect the distinctive aesthetic goals of women and men. Generally speaking, a browlift is designed to elevate the descending tissues of the forehead to a higher, more youthful position and create a more open, rested expression around the eyes. A minimally invasive endoscopic browlift allows Dr. Hankins and Dr. Sohn to use one or more small incisions to perform the operation, which can be hidden in the hairline. A small camera will be utilized to enhance viewing of the treated area without requiring a larger incision. This approach also makes it possible to reduce the appearance of wrinkles between the brows.
A traditional coronal, or hairline, browlift is another option. In this procedure, a larger incision is used to help lift the brow into the desired position and trim away excess skin. Our plastic surgeons emphasize natural-looking results that offer a smooth, youthful-looking contour and eyebrow shape. The right technique for your desired outcome will depend on your singular needs, and Drs. Hankins and Sohn will discuss the ideal method for you during your initial consultation.
Browlift Recovery
The surgery typically takes about one hour to complete, and it will be performed under general anesthesia. This is an outpatient procedure, and you should be able to return home the same day. We recommend that you rest at home for one to two weeks, after which you should be able to return to work and social activity. This recovery period may be extended if the browlift was combined with other surgical treatments such as a face and neck lift or eyelid lift. Bruising, swelling, and tenderness is normal, and prescription medication will be provided to help manage your discomfort. In the event your browlift was performed in part to enhance your vision, your insurance may partially cover the cost of treatment. We also offer financing options to help you bring browlift surgery into your budget.
Frequently Asked Questions (FAQs) About Brow Lift Surgery
You probably have many questions about brow and forehead lift surgery, and our skilled medical team wants to help you become as well-informed as possible. To this end, our board certified plastic surgeons have provided answers to some of the most common questions about this procedure. For additional assistance, we encourage you to reach out and schedule a complimentary consultation.
Who is a good candidate for brow lift surgery?
In addition to being in good overall health and being able to abstain from smoking for a period prior to and following surgery, ideal candidates for this procedure will want to address excess skin and deep creases located on their brow. It's also important to have a good understanding about what can be accomplished with this treatment and what cannot. Our skilled plastic surgeons will explain what benefits can be achieved and provide guidance to help you find the optimal approach for your needs and goals.
What areas of concern can this procedure treat?
Brow and forehead lift surgery are designed to address the region below the hairline and above the eyes, although the appearance of the eye area can also be affected by a descending brow. As a result of the natural process of aging, the skin and tissues of the brow can lose elasticity and begin to sink lower on the face, causing a patient to appear sad, tired, or even grumpy. By lifting these tissues to a higher, more youthful position and removing excess skin, the forehead can be made smoother and younger-looking. Fine lines and skin tone and texture generally will not be affected, but we offer a range of non-surgical treatment options which can be utilized to provide more comprehensive rejuvenation should you desire it.
Where are the incisions located, and will the scars be visible?
Our experienced plastic surgeons are extensively trained in a number of brow lift techniques, and the right approach for you will be determined during your initial consultation. An endoscopic brow lift can be performed for many patients. This is a minimally invasive technique that can result in a shorter recovery and smaller, less noticeable scarring. In some cases, a traditional brow lift may be necessary. For this method, a larger incision is necessary; however, our surgeons will make every effort to hide the scar within the hairline and provide an outcome that looks as natural as possible.
How long will recovery take?
While everyone heals at a rate that is unique to them, most patients can expect to take about a week or two off from work and their daily routine. We also urge patients to avoid strenuous exercise and other activities for at least a month, or as long as Dr. Hankins and Dr. Sohn recommend. You should be prepared for some surgical effects, including swelling, bruising, and tenderness, which should gradually fade as you recover. Your comfort is a high priority, and we will provide prescription medication to manage your pain. Additionally, cold compresses can help ease any discomfort during this period. Even though there may be some continuing swelling for up to a year or more, you may not notice it after a couple months when most of it should have subsided.
Will insurance cover the cost of brow lift surgery?
Brow and forehead lift surgery is an elective procedure designed to provide cosmetic enhancement. As a result, medical insurance typically will not reimburse patients for treatment. If you are also undergoing eyelid surgery and have excess eyelid skin that obstructs your vision, your medical policy may cover some expenses. We can discuss this possibility if it applies to you. If you would prefer to pay for your operation over time rather than a single lump sum, we offer a range of excellent financing options with appealing terms.
How much does brow lift surgery cost?
We understand that it is common for patients to "comparison shop" when considering plastic surgery. It is our policy to provide a detailed breakdown of costs during your initial complimentary consultation so you can make the best decision for your needs and goals. Please note, some practices provide only the surgeon's fee, giving the impression the final cost will be something less than it will be. Make sure you ask what a quote includes when receiving an estimate. It should include the surgeon's fee, hospital or facility fee, and anesthesiology fee at a minimum.
Brow lift surgery is a customized procedure, and the total cost will range from patient to patient based on their individual treatment plan. In general, brow lift surgery can vary between about $2,000 and $6,000.
Are there any alternative procedures I can consider?
While non-surgical procedures cannot address sagging skin as effectively as a surgical operation, fine lines and other common signs of aging can be minimized using cosmetic injectables and laser skin resurfacing. We offer an expansive range of minimally invasive aesthetic enhancement options, and our physicians can discuss what techniques can provide you with the best possible results.
We understand you may have several questions about browlift surgery, and we can help. Contact our practice today for more information about this procedure or to schedule a complimentary consultation with Dr. Hankins or Dr. Sohn.