Breast Augmentation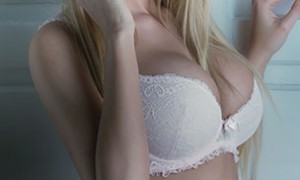 Breast augmentation can enhance your breast size and shape as well as improve volume loss after childbirth and breastfeeding. This procedure can also improve symmetry and even give your breasts a modest lift. Whether you seek a more natural aesthetic or something more dramatic, our board certified plastic surgeons, Dr. W. Tracy Hankins and Dr. Samuel M. Sohn can help. Extensively trained, they have placed over 1000 breast implants each year. We feel strongly that this breadth of experience makes all the difference in obtaining the results you desire.
There are many choices to consider with regard to breast augmentation, and we will discuss these options at your initial consultation. One of the first decisions you make will be whether you would like silicone or saline breast implants. After that, we will discuss the location of the incision. We will also review the benefits of placing the implant above the muscle (subglandular) or below the muscle (submuscular). Additionally, to help you determine the ideal implant size for your anatomic needs and cosmetic goals, we will have you "try on" the implants.
When you arrive for your initial complimentary consultation, Dr. Hankins or Dr. Sohn will discuss your areas of concern and desired outcome. Additionally, they will perform a physical examination that will help to guide their suggestions regarding breast implant type, location, and placement. This is also an opportunity to determine whether or not a breast lift will be needed. There are many variables involved in breast augmentation, and we will tailor the treatment plan to best suit each individual patient.
For more information about breast augmentation or to schedule a complimentary consultation, please contact our office today.
Saline vs. Silicone Implants
FDA-approved for breast augmentation patients age 18 and over and breast reconstruction patients of any age, saline implants offer numerous benefits. In the rare event of a rupture, the saline (saltwater) solution will be harmlessly absorbed by the body. Saline implants are available in many sizes and shapes, and they often can be placed through a smaller incision. Wrinkling or rippling potentially can occur with these models, and Drs. Hankins and Sohn usually place the implant below the muscle to help counteract this possibility, particularly in thinner patients. Depending on your treatment plan, saline implants may be less expensive.
Silicone implants have always been available for breast reconstruction patients, and they were reintroduced for primary breast augmentation patients age 22 or older in 2006. The FDA-approved silicone implants in use today are a third-generation implant, which use a thicker, "cohesive-gel" formulation. They are designed to provide the most natural-looking and feeling result possible. Silicone implants can be placed above or below the muscle, and we will provide the benefits associated with each option during your consultation.
The appearance of silicone and saline implants can be very similar. As a result, what makes one option more appealing to you will vary. Some women do not like the idea of silicone in their body (studies performed over the past 15 years have not shown any additional health risks associated with silicone implants). For these individuals, saline is a conservative option. For other patients, the more natural feel of the silicone implants can be the determining factor. Dr. Hankins or Dr. Sohn will review all your choices and help guide you, but the final decision will always be yours.
Learn More About Breast Implants
Incision Locations
There are several different incisional approaches available when performing breast augmentation. We will be happy to discuss these different options with you at your consultation. The techniques our experienced plastic surgeons most frequently use are the periareolar (a tiny incision at the junction of the areola and breast skin), and the inframammary (underneath the breast in the natural fold).
Implant Size
Choosing the size of your implants is an important step in the breast augmentation consultation process. In general, it's good to have an idea of what cup size you would like to be, but we ask that you not focus too much on this measurement. There is no standard for bra and cup sizes, and each manufacturer is different. We find that trying on implants in the office is the most accurate way to choose the appropriate volume. We recommend that you bring in form-fitting tops to try on with the breast implant sizers. High crew-necked shirts in light colors or tight fitting clothing will accentuate your breasts and make you look the largest. You'll want to be comfortable in all of your clothes, even those that accentuate your breasts.
We recommend that you become accustomed to seeing yourself with larger breasts. There is often an initial shock when women see themselves following breast augmentation. In order to assist you in picking out a size you will love, and to avoid any regrets, we advise you to stuff your bra for a while before surgery. Padding your bra, using inserts, or even baggies of rice are all good ways to test out different sizes. You may also want to make sure that you are comfortable in different types of clothing and in different environments.
The Consultation Process
During your initial consultation, Dr. Hankins or Dr. Sohn will meet with you personally and discuss your concerns and cosmetic goals. If it helps you in explaining your desired outcome, you are welcome to bring photos of breasts you find aesthetically appealing as a frame of reference. There are many choices to be made, and our friendly and knowledgeable surgeons will help you to become well-informed about your options. During this meeting, your surgeon will also perform a thorough physical evaluation. Natural breasts often have differences between them, and these will be noted so that the surgeons can create an outcome that is as symmetric as possible. We want you to feel at ease during this conversation, and we encourage you to speak freely and ask any questions you may have.
Breast Augmentation Recovery
Depending on your unique treatment plan, the breast augmentation procedure should take about one to three hours. You should be able to return home the same day as the operation. Some swelling, bruising, and discomfort is normal, and we will prescribe medication to help manage your pain. We recommend that you relax at home for about one to two weeks before returning to work or normal activities. You should also avoid lifting anything over five pounds for the first two weeks, and you should refrain from strenuous exercise for at least one month. You should have a good idea of your results after several weeks, although some swelling may continue for several months and in some cases can take up to a year to fully subside.
Choosing Your Surgeon
We understand that you might have many questions about breast augmentation, and we're here to help. Contact us today for more information or to schedule your complimentary consultation with Dr. Hankins or Dr. Sohn.