Breast Augmentation
Breast augmentation can enhance your breast size and shape as well as improve confidence and self-esteem. The breast augmentation specialists at our Las Vegas plastic surgery practice committed to delivering results that consistently exceed patient expectations. Whether you seek a natural aesthetic or something more dramatic board-certified surgeons Dr. W. Tracy Hankins and Dr. Samuel M. Sohn can help. Extensively trained, they have placed over 1000 breast implants each year. We feel strongly that this breadth of experience makes all the difference in obtaining the results you desire.
Why Do Women Choose Breast Augmentation?
Breast augmentation is a personal decision, and one that many women find to be an empowering one. Breast augmentation is the most popular cosmetic surgery in the country, with more than 300,000 procedures performed in 2018.1 Each patient has their own individual motives for breast augmentation and some common reasons include:
Restore breast volume that was lost after childbirth or breastfeeding
Balance a figure to look more proportionate
Create symmetry for breasts that are different sizes or shape
Rejuvenate breasts that have lost their shape with age
Fulfill a desire for a more feminine appearance

Saline vs. Silicone Implants
Saline implants offer numerous benefits and are FDA-approved for breast augmentation patients age 18 and over and breast reconstruction patients of any age.
Benefits of Saline Implants
In the rare event of a rupture, the saline (saltwater) solution will be harmlessly absorbed by the body.
Saline implants are available in many sizes and shapes, and they often can be placed through a smaller incision.
Depending on your treatment plan, saline implants may be less expensive.
Silicone implants have always been available for breast reconstruction patients, and they were reintroduced for primary breast augmentation patients age 22 or older in 2006. The FDA-approved silicone implants in use today are a third-generation implant, which use a thicker, "cohesive-gel" formulation.
Benefits of Silicone Implants
They are designed to provide the most natural-looking and feeling result possible.
Silicone implants may be less likely to result in a rippled appearance, which can occasionally occur with saline implants if they are not optimally placed.
Silicone implants can be placed above or below the muscle, and we will provide the benefits associated with each option during your consultation.
The appearance of silicone and saline implants can be very similar. As a result, what makes one option more appealing to you will vary. Some women do not like the idea of silicone in their body (studies performed over the past 15 years have not shown any additional health risks associated with silicone implants). For these individuals, saline is a conservative option. For other patients, the more natural feel of the silicone implants can be the determining factor. Dr. Hankins or Dr. Sohn will review all your choices and help guide you, but the final decision will always be yours.
Breast Implant Incision Locations
There are several different incisional approaches available when performing breast augmentation. We will be happy to discuss these different options with you at your consultation. The techniques our experienced plastic surgeons most frequently use are the periareolar (a tiny incision at the junction of the areola and breast skin), and the inframammary (underneath the breast in the natural fold).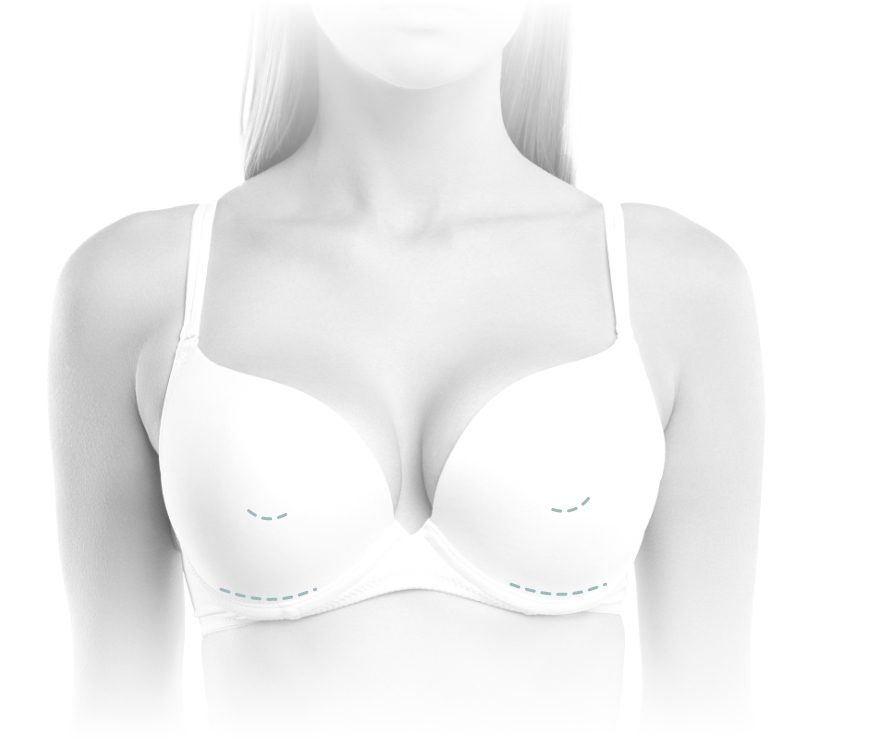 Choosing Breast Implant Size
Choosing the size of your implants is an important step in the breast augmentation consultation process. In general, it's good to have an idea of what cup size you would like to be, but we ask that you not focus too much on this measurement. There is no standard for bra and cup sizes, and each manufacturer is different. We find that trying on implants in the office is the most accurate way to choose the appropriate volume. We recommend that you bring in form-fitting tops to try on with the breast implant sizers. High crew-necked shirts in light colors or tight fitting clothing will accentuate your breasts and make you look the largest. You'll want to be comfortable in all of your clothes, even those that accentuate your breasts.
We recommend that you become accustomed to seeing yourself with larger breasts. There is often an initial shock when women see themselves following breast augmentation. In order to assist you in picking out a size you will love, and to avoid any regrets, we advise you to stuff your bra for a while before surgery. Padding your bra, using inserts, or even baggies of rice are all good ways to test out different sizes. You may also want to make sure that you are comfortable in different types of clothing and in different environments.
Your Breast Augmentation Consultation
During your initial consultation, Dr. Hankins or Dr. Sohn will meet with you personally to discuss your concerns and cosmetic goals and help you to become well-informed about your options. During this meeting, your surgeon will also perform a thorough physical evaluation. Natural breasts often have differences between them, and these will be noted so that the surgeons can create an outcome that is as symmetric as possible. We want you to feel at ease during this conversation, and we encourage you to speak freely and ask any questions you may have. There are many choices to consider with regard to breast augmentation, and we will discuss these options at your initial consultation. Some things to know about the breast augmentation consultation process:
You are welcome to bring photos of breasts you find aesthetically appealing as a frame of reference.
One of the first decisions you make will be whether you would like silicone or saline breast implants.
We will also review the benefits of placing the implant above the muscle (subglandular) or below the muscle (submuscular).
To help you determine the ideal implant size for your anatomic needs and cosmetic goals, we will have you "try on" the implants.
This is also an opportunity to determine whether or not a breast lift will be needed.
There are many variables involved in breast augmentation, and we will tailor the treatment plan to best suit each individual patient. For more information about breast augmentation or to schedule a complimentary consultation, please contact our office today.
Gallery
Breast Augmentation Results
Dr. Hankins and Dr. Sohn are dedicated to delivering breast augmentation results that are personalized to meet each patient's expectations. We will work with you to understand your vision and deliver natural-looking results that are as subtle or dramatic as you desire.
Breast Augmentation Recovery
Depending on your unique treatment plan, the breast augmentation procedure should take about one to three hours. You should be able to return home the same day as the operation. Some swelling, bruising, and discomfort is normal, and we will prescribe medication to help manage your pain. We recommend that you relax at home for about one to two weeks before returning to work or normal activities. You should also avoid lifting anything over five pounds for the first two weeks, and you should refrain from strenuous exercise for at least one month. You should have a good idea of your results after several weeks, although some swelling may continue for several months and in some cases can take up to a year to fully subside.
Why Choose Hankins & Sohn for Las Vegas Breast Augmentation?
Compassion We are committed to personalized care and concierge level service that centers the patient's needs.
Training Our plastic surgeons are board certified and have trained at some of the most distinguished programs in the nation.
Experience Our plastic surgeons have extensive surgical experience, and also perform research and are sought out as experts in their field.
Safety We uphold rigorous safety standards to safeguard the wellbeing of our patients.
Contact Us
We understand that you might have many questions about breast augmentation, and we're here to help. Contact us today for more information or to schedule your complimentary consultation with one of our surgeons.
Frequently Asked Questions About Breast Augmentation
To help you become well informed about breast augmentation, our surgeons have answered from frequently asked questions about this popular procedure. A FAQ section can only address so many concerns, however. For more information, we encourage you to reach out to our team to schedule a complimentary consultation with one of our board certified plastic surgeons.
Am I a good candidate for breast augmentation?

One of the most important factors for determining breast augmentation candidacy is wellness. In addition to being in good overall health, a patient should also abstain from smoking. They should also have adequate skin elasticity and muscle quality to support the breast implants. All of these considerations are designed to provide you with the best possible outcome and to reduce complications. Our physicians' number one priority is safety, and we go to great lengths to provide our patients with excellent care.

How do I choose the right shape/size implants?

Every woman's body is unique, just as her cosmetic goals are unique. Choosing the right implants is a process that must take into consideration a variety of factors, including your personal preferences, anatomic indicators, and desired outcome. Drs. Hankins and Sohn will be happy to help you determine which styles are most likely to provide the result you're looking for, and we encourage you to learn more about the broad array of implant options that are currently available. In addition to silicone and saline, there are round and shaped as well as textured and smooth implants. We also offer fat grafting to achieve the most natural-looking appearance and feel possible. Each combination offers different benefits, and we will provide guidance to assist you in making a decision.

Which implant placement provides the most natural appearance?

Breast implants can be placed above or below the chest muscle, depending on your anatomical needs and expressed desires. The size, shape, and composition of the breast implants will play a role in which placement is selected, as will the volume of existing breast tissue. Women with smaller frames and little breast tissue may benefit from a different placement than women with more breast tissue and a higher distribution of fatty tissue. Additionally, skin quality will also be taken into consideration. These factors help our plastic surgeons select the most ideal placement for each person.

What are the incision options for breast augmentation?

Our surgeons utilize the most advanced breast augmentation techniques available. An inframammary fold incision is one of the most common approaches, which is an incision that is made below the breast on the inframammary fold (where the breast meets the chest). Another option is a peri-areolar incision, which is an incision that is made along the periphery of the areola (the pigmented area around the nipple). In some cases, an incision can be made on the crease of the underarm, which is known as the transaxillary incision. As with most other breast augmentation choices, the right option for you will depend on your anatomic characteristics, personal preferences, and treatment plan.

Can I still breastfeed after breast augmentation?

Many women who have breast augmentation go on to breastfeed without difficulty. Breast augmentation, when performed by a skilled and experienced plastic surgeon, should not affect a woman's ability to nurse her child if she was able to do so prior to the operation.2 Dr. Hankins and Dr. Sohn can tailor your treatment plan to minimize damage to the mammary glands if you know you will want to breastfeed at some point in the future.

Are there age restrictions for breast augmentation?

The FDA requires that patients must be at least 18 years old to have saline implants and 22 years old to receive silicone implants, unless undergoing breast reconstruction. There is no upper age limit for breast augmentation, rather skin quality, physical health, and cosmetic desire will determine candidacy above the age of 18/22.

Do implants interfere with mammograms?

Mammograms can be effectively performed on breasts with implants, including both saline and silicone styles. A highly qualified radiologist will adjust the technique to provide the best care. In some cases, the breast implant may obstruct the view of the breast tissue, in which case an MRI may be recommended instead. Always be sure and inform your radiologist that you have implants prior to your mammogram so they can be properly prepared for your visit.

What are the risks of breast augmentation?

Any surgical procedure comes with some risk of complications or side effects. Potential risks of breast augmentation surgery include infection, bleeding, changes in breast sensation, and general anesthesia risks. The experienced surgeons at Hankins & Sohn uphold high standards of safety to minimize risk.3

How much does breast augmentation cost?

The cost of breast augmentation will vary from person to person based on their needs and goals. Some other factors that will affect the final cost include the surgeon's fee, hospital facility fee, and anesthesiology fee. During your initial consultation, your surgeon will discuss the details and fees associated with your operation. As a cosmetic procedure, breast augmentation will not be covered by medical insurance; however, there are many other financing options available to help you bring this treatment into your budget.
Page Updated:
This content has either been authored or reviewed and approved by the doctors at Hankins & Sohn Plastic Surgery Associates.