Liposonix® Liposuction Alternative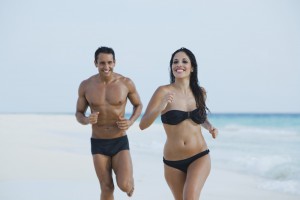 Dr. W. Tracy Hankins and Dr. Samuel Sohn are proud to offer the latest development in body contouring, Liposonix®, as they help patients achieve a slimmer, trimmer appearance.
Liposonix® is a safe, non-surgical, non-invasive means of fat reduction that utilizes high-intensity focused ultrasonic energy to eliminate stubborn fat that is often resistant to diet and exercise.

Liposonix® is typically ideal for patients that are close to their goal weight and size, as it can give them that extra help many people need as they get healthier and more fit. In order to ensure the best possible results, you should be able to to "pinch an inch" in the treatment area, and have a body mass index of 30 or less. Common treatment areas include the abdomen and love handles.
Recently approved by the FDA, the liposuction alternative has been shown in clinical studies to reduce waistlines by one inch after a single treatment. While many patients see near-immediate results, the effects of Liposonix® should be even more apparent within 8 to 12 weeks after treatment as the body naturally disposes of the destroyed fat tissue. *The final results may sometimes take up to 6 months to be visualized.
*Individual Results May Vary
How Liposonix® Works
Using high-intensity, focused ultrasound waves in order to break up and eliminate excess fat cells, our Las Vegas plastic surgeons can help patients achieve their body contouring goals. Instead of targeting the skin, Liposonix® focuses on subcutaneous fat, using the ultrasonic energy to eliminate targeted fat without surgery. The treatment lasts roughly an hour depending on the size of the area being treated.
During treatment, our plastic surgeon will move the head of the Liposonix® system back and forth over the area to be treated. Fat cells below the skin's surface will be targeted and destroyed with high-intensity ultrasound energy in a procedure designed to leave surrounding tissue unharmed by focusing the energy 1-2 centimeters below the skin's surface. The body then naturally removes the disrupted fat cells over time.
Patients often describe the resulting sensation as cold, prickling, tingling or warm. After the procedure, some patients may experience temporary bruising, redness and swelling, which should dissipate quickly and are described by many patients as just mild discomfort. Compression garments may be helpful for a few days after the procedure to help reduce swelling and improve post-procedure comfort.
Contact Our Practice
For more information on this alternative to liposuction or other body sculpting procedures, or to schedule a consultation for Liposonix® to see if this non-surgical procedure is right for you, contact our practice today.