KYBELLA™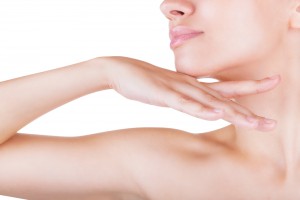 One of the most difficult areas to lose excess fat is located under the chin. A double chin, medically referred to as submental fat or submental fullness, can be very resistant to diet and exercise. In the past, liposuction was the only effective cosmetic procedure available for this common concern. Now there's FDA-approved KYBELLA™, available from our board certified plastic surgeons. This advanced cosmetic injectable is designed to reduce the appearance of fatty tissue under the jawline with natural-looking results. KYBELLA™ is comprised of a substance called deoxycholic acid, which can be found naturally-occurring in the body. This solution has the ability to break down fat cells, which can then be filtered out of the body through normal metabolic processes. A minimally invasive treatment that requires little to no downtime, KYBELLA™ can be an excellent option for men and women seeking to address a double chin without surgery.
If you have additional questions about KYBELLA™, our friendly and knowledgeable medical team can help. Contact us today for more information or to schedule a complimentary consultation.
KYBELLA™ Procedure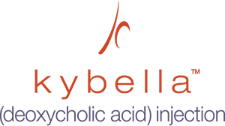 When you arrive for your initial complimentary consultation, one of our skilled plastic surgeons will evaluate your needs and discuss your goals. If he determines that KYBELLA™ is right for you, he will administer the solution into a series of targeted sites using ultra-fine needles. Most patients report little discomfort, and we can provide a number of options to make your experience as pleasant as possible. Depending on several factors, treatment often takes as little as 20 minutes. KYBELLA™ offers gradual, natural-looking effects that have the potential to be very long-lasting.
KYBELLA™ Recovery
Most patients find that they can return to work and social activities a day or two after treatment. You may experience some mild redness and swelling at the injection sites, although these symptoms should subside quickly. Benefits will begin to appear after a few weeks and continue to improve over a few months. Many individuals find that one KYBELLA™ treatment is sufficient to achieve their aesthetic goals, and other patients may need two-to-four sessions. As with all of our cosmetic enhancement procedures, your care, comfort, and safety are our highest priorities.
Would you like to know more? Contact our practice today for more information about KYBELLA™ or to schedule a complimentary consultation.