Post-Bariatric Body Contouring Surgery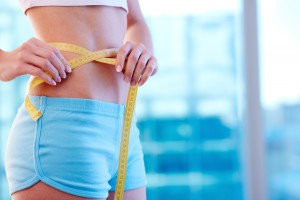 You have succeeded in losing a significant amount of weight, and you look and feel great. However, you may find that in spite of all of that weight loss, your body contour is still not the shape that you desire. Take the next steps and have a consultation for body contouring to lose that excess skin, with Dr. Hankins and Dr. Sohn. Our plastic surgeons are referred by some of the Valley's busiest bariatric surgeons for post-bypass or post-lap band contouring on their patients, with an excellent track record of safety, consistent results, and the volume and experience needed for you to obtain the best result.
While simple skin or fat excess may be treated by a tummy tuck or liposuction, large weight loss individuals may require a more extensive procedure known as a circumferential tummy tuck, or even a lower body lift. These surgeries can improve the appearance of your waistline, thighs, and buttocks. Other procedures such as an arm lift, breast lift, and facelift may also be needed to complete the new tighter and toned you! Procedures can be combined depending on your specific body shape and health history, but if you desire many different areas improved, the surgeries may have to be staged at different times for your health and safety.
Risks of Body Contouring Surgery
Although post bariatric body contouring procedures are performed regularly by our plastic surgeons, there are risks involved as is the case with all surgeries. Infection, bleeding, scarring, blood clots, and numbness are all possibilities. We will instruct you on how to minimize these risks, both with preoperative planning and postoperative care. Poor wound healing is also a possibility, that may result in a conspicuous scar. Additional revision surgery may be necessary to correct any problems that arise from a complication. Smokers are advised to discontinue smoking three to four weeks prior to surgery. Nicotine and carbon monoxide in tobacco products increases the risk of complications and delays wound healing by altering the circulation to the skin. During your preoperative visit, Dr. Hankins or Dr. Sohn will discuss these and other complications that may occur.
Before Your Procedure
Medical History
A full medical history is necessary prior to your surgery, including a full weight loss history, prior surgeries, and the length of time that your weight has been stable. If you are continuing to lose weight, it may be appropriate to delay surgery until your weight has stabilized for 6 months, in order to maximize the surgical result. The medical history and evaluation ensures that anesthesia and the stresses of the surgery are safely tolerated. If you have significant medical problems, a consultation with other specialists may be required before surgery to obtain preoperative clearance. You will also require specific laboratory tests.
Physical Exam
A full physical examination and evaluation is required to determine which body contouring procedures are best for you. Photographs are an essential part of the process, and are necessary – particularly if you plan on proceeding with coverage through your insurer.
Out of Town Patients
We try to accommodate our traveling patients by accomplishing as much of the preoperative work up as we can prior to your arrival in the greater Las Vegas valley. Patients can fill out our online medical questionnaire and supply us with pictures through this website or by regular mail. Patients are asked to arrive at least 2 days prior to surgery for a full physical evaluation and to complete the final preoperative workup. We ask that patients spend between 7-14 days locally, for your safety, assuming that no complications occur. Our office can assist you with arranging to stay in a nursing care facility or local hotel after your discharge from the facility. We recommend that you put us in touch with a physician from your hometown that is willing to help take care of you until you are back to normal. Frequently, you will visit your primary care physician prior to arrival in Las Vegas, so that labs and any necessary tests for medical clearance can be obtained and evaluated.
Who Is Not a Candidate for Body Contouring
If you are still massively obese or still losing weight at an accelerated rate, you are not a candidate for body contouring. This is because your contour will not significantly improve and the surgical risks are greater. If you have significant medical problems that put you at greater risk while under general anesthesia, then this type of surgery may not be safe for you.
To find out if post-bariatric body contouring is right for you, contact our plastic surgery office at (702) 948-7595 to schedule a complimentary consultation with Dr. Sohn or Dr. Hankins.