Reconstructive Plastic Surgery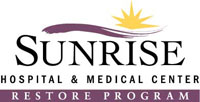 Dr. Hankins, as the Chief of Plastic Surgery at Sunrise Hospital and Medical Center, and Dr. Sohn as a Staff Plastic Surgeon at Sunrise, also participate in reconstructive efforts for cancers, burns, and adult and pediatric trauma.  Dr. Sohn is also a member of the Sunrise Hospital RESTORE Wound Care Team, providing his expertise to help heal and close complex wounds.
Dr. Hankins and Dr. Sohn have the experience, skills, and knowledge necessary to effect a positive change for their patients and the Las Vegas community at large.  From hand reconstruction, breast reconstruction, craniofacial work, to lower extremity trauma, they can help change lives for the better.  Ranging from simple scar revisions, to skin grafts, pedicled muscle flaps, and microvascular free tissue transfer, the doctors often work together to speed up operative time, making things simpler and safer for the patient.
We understand that you have a choice in physicians for your reconstruction, and we invite you to experience the excellence in surgical results and patient care that we set for ourselves and our staff. Call us today for your complementary appointment at (702) 948-7595.