How Much Does Hair Transplantation Cost?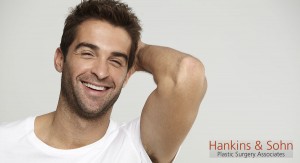 There are many options available to help you halt hair loss and stimulate regrowth, including surgical and non-surgical methods. One of the most advanced techniques, the NeoGraft® Hair Replacement System, can also offer some of the best results possible. This procedure, performed by our board certified plastic surgeons, W. Tracy Hankins, MD and Samuel M. Sohn, MD, is a minimally invasive treatment that utilizes your own natural hair. No plugs. No creams. No wigs. While NeoGraft® will be more expensive than topical therapies in the short term, it can also provide permanent results for many patients. If you're frustrated by hair loss and want a natural-looking, long-lasting solution, NeoGraft® may be right for you.
Factors that will affect the price of hair transplant surgery will include how much hair needs to be transplanted and the technique utilized. Another consideration will be the quality of donor hair available. The donor site is located on the sides and the back of the head. If these hair follicles are healthy, active, and growing, there should be little difficulty harvesting and transplanting them to the desired location. Generally speaking, hair restoration surgery can cost anywhere from a few thousand dollars up to several thousand dollars, depending on your singular needs and goals. To help bring the cost of NeoGraft® Hair Replacement into your budget, we offer a number of convenient financing options.