Mini Facelift Increasingly Popular at Las Vegas Plastic Surgery Practice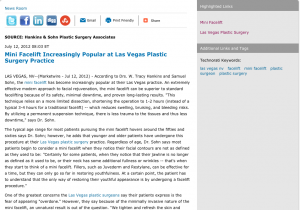 Las Vegas, NV — According to Drs. W. Tracy Hankins and Samuel Sohn, the mini facelift has become increasingly popular at their Las Vegas practice. An extremely effective modern approach to facial rejuvenation, the mini facelift can be superior to standard facelifting because of its safety, minimal downtime, and proven long-lasting results. "This technique relies on a more limited dissection, shortening the operation to 1-2 hours (instead of a typical 3-4 hours for a traditional facelift) – which reduces swelling, bruising, and bleeding risks. By utilizing a permanent suspension technique, there is less trauma to the tissues and thus less downtime," says Dr. Sohn.
The typical age range for most patients pursuing the mini facelift hovers around the fifties and sixties says Dr. Sohn; however, he adds that younger and older patients have undergone this procedure at their Las Vegas plastic surgery practice.  Regardless of age, Dr. Sohn says most patients begin to consider a mini facelift when they notice their facial contours are not as defined as they used to be: "Certainly for some patients, when they notice that their jawline is no longer as defined as it used to be, or their neck has some additional fullness or wrinkles – that's when they start to think of a mini facelift.  Fillers, such as Juvederm and Restylane, can be effective for a time, but they can only go so far in restoring youthfulness. At a certain point, the patient has to understand that the only way of restoring their youthful appearance is by undergoing a facelift procedure."
One of the greatest concerns the Las Vegas plastic surgeons say their patients express is the fear of appearing "overdone."  However, they say because of the minimally invasive nature of the mini facelift, an unnatural result is out of the question. "We tighten and refresh the skin and underlying musculature safely and effectively, without excessive tightening. With the modern techniques of the mini facelift, it truly has revolutionized the way that we approach facelifts, keeping all of the positive benefits while minimizing the risks and downtime," says Dr. Sohn. He adds that because they can perform this procedure while awake with local anesthesia, the overall impact on the patient is drastically reduced, including the potential risks associated with general anesthesia, the actual cost of the procedure, and the total recovery period.
While Dr. Sohn admits that a complete rejuvenation is only attainable with the traditional full facelift procedure, the mini facelift provides patients with a number of additional benefits associated with the reduced invasiveness of the surgery, and is often all that a patient requires to reach their aesthetic enhancement goals. "Incisions are, in general, shorter, and well-hidden within natural creases. The skin of the neck is also released, allowing for a significant tightening of the neck and jawline as well. Typical longevity of result for each patient will depend on each individual, but we expect to see a result lasting from 7-10 years for most patients. With average downtimes ranging from 1-2 weeks for a mini facelift, this is where the patient benefits most significantly in comparison to a traditional facelift – where patients often require a lengthier recovery."
About W. Tracy Hankins, MD
Dr. W. Tracy Hankins earned his medical degree from Indiana University Medical School, and then completed his general surgery residency at Blodgett/St. Mary's, and his plastic surgery residency at GRAMEC Plastic Surgery. He is a member of the American Society of Plastic Surgeons, and is Chief of Plastic Surgery at Sunrise Hospital and Medical Center. Dr. Hankins is certified by the American Board of Plastic Surgery, and participates often in television shows such as "The Doctors" and local network spots dedicated to educating the public about cosmetic plastic surgery.
About Samuel Sohn, MD
An honors graduate of Stanford University, Dr. Samuel Sohn earned his medical degree from the Medical College of Virginia/Virginia Commonwealth University, then completed his general and plastic surgery residencies at Michigan State University, and an advanced Aesthetic Surgery Fellowship at the New York Eye and Ear Infirmary. He is a member of the American Society of Plastic Surgeons, and a Diplomate of the American Board of Plastic Surgery.
Hankins & Sohn Plastic Surgery Associates has two locations: the Henderson office is located at 60 North Pecos Rd., Henderson, NV 89074; the Las Vegas office is located at 2150 S. Rainbow Blvd., Las Vegas, NV 89146; both are reachable at (702) 948-7595. Drs. Hankins and Sohn can also be found online at hankinsplasticsurgery.com and their Las Vegas Plastic Surgery Facebook page.