Non-Surgical Facial Rejuvenation with Thermage®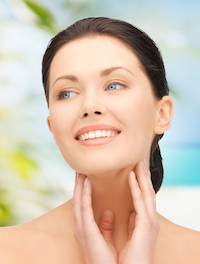 Thermage® – a noninvasive technique designed to stimulate the natural production of collagen – can be ideal for patients between ages 21-60 who seek to address fine lines, wrinkles, loose or sagging skin, uneven skin texture, or lost definition of the neck and jaw. Our Thermage® CPT system with Comfort Pulse Technology™ has significantly improved patient comfort and results for this procedure. This innovative technology utilizes a vibrating handpiece that emits radio frequencies to deliver therapeutic heat across treatment areas, allowing for more effective skin tightening on the face or body.
Thermage® is an excellent non-surgical option for our patients at Hankins & Sohn Plastic Surgery Associates, and it can be used to achieve eyelid tightening and under-eye smoothing, facial tightening and contouring, or cellulite and skin texture improvement. As a plastic surgery practice committed to remaining at the forefront of our field, state-of-the art procedures like Thermage® allow us to continue to meet our patients' expectations and provide exceptional results.
Stay Tuned
In the following weeks, we will be posting a followup blog in which Dr. W. Tracy Hankins and Dr. Samuel M. Sohn will compare Thermage® versus a traditional facelift. Be sure to check back soon.
Contact Our Office
To learn more about how Drs. Hankins and Sohn may be able to help you achieve your cosmetic goals with Thermage®, please contact our office today.