How To Erase Acne Scars, Photodamage, And More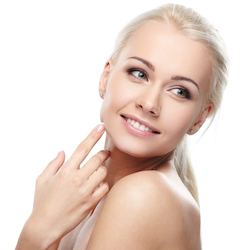 In our previous blog post, we discussed the Fraxel® laser treatment's unique ability to rejuvenate skin and produce the results of an ablative laser without the associated risk or downtime. In this follow-up post, we will take a closer look at the treatment and recovery.
Safe and effective for all skin types, Fraxel® laser treatment can be used to address mild to moderate photodamage/pigmentation, wrinkles, fine lines, acne scars, and a variety of other skin texture irregularities. At Hankins & Sohn Plastic Surgery Associates, we offer our patients the option of a single treatment that utilizes both wavelengths of our Fraxel® DUAL 1550/1927 laser to maximize results or separate treatments to better target specific skin problems.
The number of Fraxel® treatments needed to achieve optimal results vary from patient to patient, depending on their individual concerns. Typically, patients receive 3-5 treatments to achieve their desired results, though acne scars and melasma commonly require additional treatments to fully rejuvenate the skin. Recovery time and instructions also vary accordingly, though the main objectives are to keep skin hydrated in the days following the procedure, keep sun exposure to a minimum, and take special care using gentle cleansers and beauty products. Within 10-12 days, patients can generally resume their normal skincare routines. Fraxel® laser treatment can typically be repeated in as soon as 4-6 weeks after the initial procedure.
To learn more about Fraxel® laser treatment or schedule a consultation with Dr. Samuel Sohn or Dr. W. Tracy Hankins, please contact our office today.