Can I Get a Browlift Without Surgery?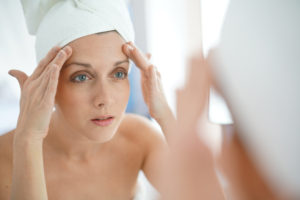 Facial expressions help us communicate our feelings to those around us, showing delight, concern, irritation, and surprise to various degrees. With time, these expressions can leave behind wrinkles along the forehead that may make you appear older than you feel. A surgical brow lift from our experienced plastic surgeons can be an excellent option to treat symptoms in an advanced stage. If you have fine lines and little to no skin laxity, however, a non-surgical brow lift may be right for you.
In many cases, a combination of BOTOX® Cosmetic and Ultherapy® skin tightening can elevate the brow, reduce the appearance of lines, increase natural collagen production, and improve skin elasticity for a more youthful-looking appearance. But those aren't the only options. Dermal fillers, including JUVÉDERM® and Sculptra®, can be combined with Thermage® radiofrequency therapy or Ultherapy® ulatrsonic skin lifting to achieve similar effects. Each of these procedures requires little downtime, with most patients returning to normal life immediately following treatment.
At Hankins & Sohn Plastic Surgery Associates, our state-of-the-art practice is equipped with the latest non-surgical and minimally invasive options. In addition to cosmetic injectables and energy-based technology, we offer laser skin resurfacing featuring some of the most advanced lasers available. When you arrive for your initial consultation, we will customize your treatment plan to best suit your needs and expressed goals. We may suggest combining some of the methods described here to improve mild to moderate signs of aging along the brow and forehead. Ultimately, of course, the final decision will be yours.
If you would like to learn more about non-surgical brow lift options and determine if you're a candidate for treatment, or if you would like to schedule a consultation, please contact us today.
Editor's note: The original version of this post was published on April 9, 2015.