Las Vegas Plastic Surgeon Discusses Pregnancy's Effect on Plastic Surgery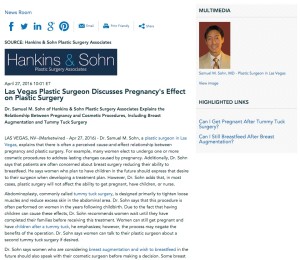 Dr. Samuel M. Sohn of Hankins & Sohn Plastic Surgery Associates explains the relationship between pregnancy and cosmetic procedures, including breast augmentation and tummy tuck surgery.
Las Vegas, NV — Dr. Samuel M. Sohn, a plastic surgeon in Las Vegas, explains that there is often a perceived cause-and-effect relationship between pregnancy and plastic surgery. For example, many women elect to undergo one or more cosmetic procedures to address lasting changes caused by pregnancy. Additionally, Dr. Sohn says that patients are often concerned about breast surgery reducing their ability to breastfeed. He says women who plan to have children in the future should express that desire to their surgeon when developing a treatment plan. However, Dr. Sohn adds that, in most cases, plastic surgery will not affect the ability to get pregnant, have children, or nurse.
Abdominoplasty, commonly called tummy tuck surgery, is designed primarily to tighten loose muscles and reduce excess skin in the abdominal area. Dr. Sohn says that this procedure is often performed on women in the years following childbirth. Due to the fact that having children can cause these effects, Dr. Sohn recommends women wait until they have completed their families before receiving this treatment. Women can still get pregnant and have children after a tummy tuck, he emphasizes; however, the process may negate the benefits of the operation. Dr. Sohn says women can talk to their plastic surgeon about a second tummy tuck surgery if desired.
Dr. Sohn says women who are considering breast augmentation and wish to breastfeed in the future should also speak with their cosmetic surgeon before making a decision. Some breast implant incision locations are better suited to preserve the milk ducts used in lactation, and he says an experienced, board certified plastic surgeon will typically recommend these for individuals who hope to nurse one day. Dr. Sohn indicates that not all women will naturally have the ability to breastfeed, regardless of whether they have breast surgery. Additionally, he says that both silicone and saline breast implants should be fine to use, as there are no known associated risks with either of them in relation to breastfeeding.
Generally speaking, Dr. Sohn says that plastic surgery should not interfere with one's ability to have children or to feed them naturally. Still, he encourages women to discuss their family planning goals during the consultation process. Dr. Sohn notes that this information could alter the physician's recommended treatment plan and ultimately improve the patient's outcome.
About Samuel M. Sohn, MD
Dr. Samuel Sohn is a fellowship-trained plastic surgeon and a Diplomate of the American Board of Plastic Surgery. He is the Co-Director of Hankins & Sohn Plastic Surgery Associates, located in the Las Vegas and Henderson, Nevada area. Educated at Stanford University and the Medical College of Virginia, Dr. Sohn completed additional training at the Grand Rapids Medical Education & Research Center, one of the oldest and most prestigious plastic surgery programs in the nation. He is an active member of the American Society of Plastic Surgeons (ASPS) and an Assistant Professor of Plastic and Reconstructive Surgery at Touro University. Dr. Sohn is available for interview upon request.
For more information about Dr. Sohn and his practice, please visit hankinsplasticsurgery.com and facebook.com/PlasticSurgeryLasVegas.
Contact:
Hankins & Sohn Plastic Surgery Associates
Las Vegas Office:
2150 S. Rainbow Blvd.
Las Vegas, NV 89146
(702) 897-1330
Henderson Office:
60 North Pecos Rd.
Henderson, NV 89074
(702) 897-1330
Rosemont Media
(858) 200-0044
www.rosemontmedia.com